We're celebrating 50 years!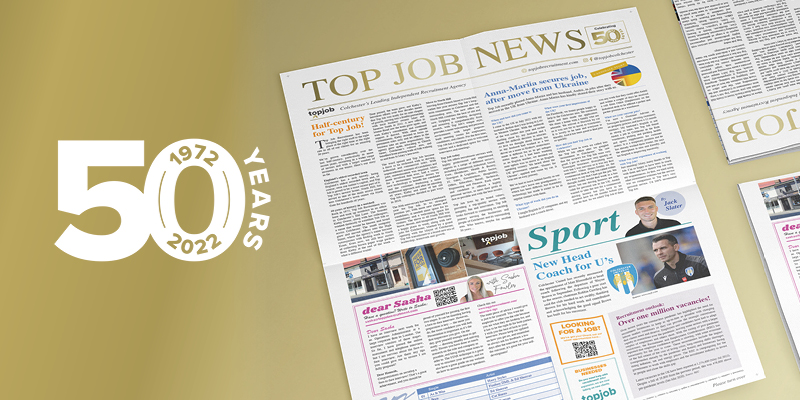 View/download our Top Job Newspaper to read all about what's going on at Top Job and read news stories from 50 years ago. We've come a long way!
Top Job Recruitment has been bringing the right staff to the right place at the right time at the right rate to all of our clients for an amazing 50 years.
We've grown considerably over the last half-century, particularly in more recent years, recruiting in a wider range of sectors and with a larger number of recruiters in our teams. Here's our story so far
England's oldest recorded town
Colchester has a rich history, being England's oldest recorded town and, of course, once our nation's capital, and Top Job is proud to be a more recent part of it. Top Job's newest home, North Hill, has served as one of the main access routes into Colchester's town centre via North Gate for hundreds of years.
50 years of history in a nutshell
Back in 1972, Top Job Recruitment was born and took up residence in an office in Colchester's Eld Lane. The founder Kathy Ovens, along with her colleagues, worked tirelessly to establish Tob Job as a name that would be known and loved across Colchester. The small company grew and moved offices into the High Street, where the agency's name became synonymous with finding work in North Essex. Even now, we still hear stories of collecting brown paper wage packets from Kathy at the end of the week - what a different world!
Time passed, the team grew, and Kathy's herculean efforts over four decades meant that Top Job was ready for its next chapter of growth, moving into a fruitful partnership with local business owners Marc and Jameson Smith in 2011. A new office in Manor Road saw the team grow again, and with Kathy's consultation and continued support it thrived. With other outside commitments, Kathy decided to focus on permanent roles only and let others in the business take on more responsibility. The agency grew again, relocating to Church Street, Colchester's cultural area, and benefited from passing trade of folk walking to and from St Mary's into town.
The word spread and Top Job became a force to be reckoned with in driving, industrial and commercial roles. With unprecedented amounts of candidates and jobs, modernisation was required. Marc, more involved than ever, had a vision for a recruitment business driven by new technology to benefit the candidate and the customer. Preferring a more traditional approach and after an amazing 46 years, Kathy and some of her old Top Job colleagues decided to part ways in 2018.
The 50th anniversary has been a landmark year for Top Job. In its strongest position yet, with more new clients and candidates, it needed more space for its consultants and a welcoming space for visitors. The move to 40 North Hill was brave, decent, and imaginative. Providing a happy place to work, along with new jobs for Colchester. Marked by a grand opening with the Mayor of Colchester, Top Job transitioned to a brand new era of leadership, teamwork and growth.
Move to North Hill
Moving from Church Street to North Hill earlier this year secures Top Job's long-term commitment to Colchester and the surrounding area. The new office in North Hill combines the best of old and new. Stripping the building, designing and restoring it sympathetically from scratch, with Top Job's unique style, provides a more welcoming and personal environment with larger purpose-built meeting rooms for employees, candidates, and clients. For the first time, Top Job has a reception area to welcome visitors and a dedicated space for video interviews and meetings.
Top Job today
Top Job offers recruitment services with highly professional and experienced experts in a range of different sectors, including Commercial, Industrial, Social Care, Healthcare, Health & Beauty, Transport & Logistics, Public Sector, IT, Sales, Construction, Hospitality, Office, Education, Retail, Technical, Engineering and Finance. Each client and candidate is offered a highly personal service, to meet their goals as fast as possible and with the best results.
Top Job lives by its brand values, providing a top-quality service with integrity, fun and innovation. Top Job looks forward to continuing its exciting journey serving the businesses and people of Colchester and its surrounding area. Who knows, maybe for another 50 years…